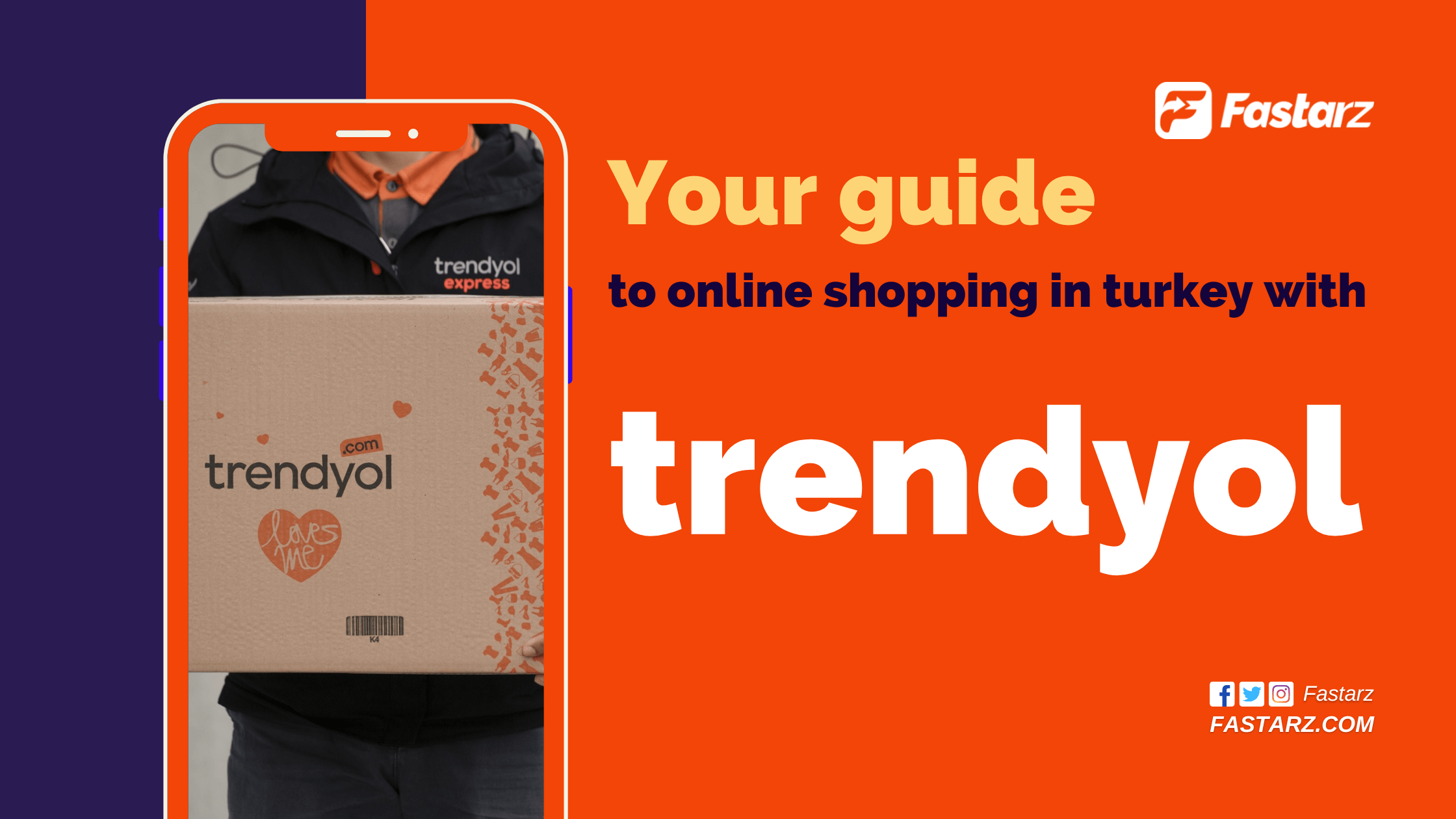 03 Sep

Your guide to online shopping in turkey with Trendyol
Online shopping in turkey is way great with Trendyol
Trendyol started in 2010 and has grown to become one of the world's largest e-commerce platforms.
Trendyol is an easy place to shop because the site offers rapid shipping to all regions of the Turkish Republic.
It is also one of Turkey's largest online shopping sites, offering a diverse assortment of items that are rarely found in one location.
Benefits of shopping from turkey with TRENDYOL
The website has an accurate search function that allows users to effortlessly compare costs and find the top sellers.
The website has a section dedicated to children's apparel, which features the most recent and greatest designs from Turkish firms.
TRENDYOL has a number of advantages, including:
The ability to select from a wide range of items.
The most offers and rates.
See the latest up-to-date product information.
Receive items that may not be available in the buyer's country.
Saving time, effort, and transportation expenses.
Buyers from outside Turkey can purchase all of the site's items through the services supplied by "Fastarz."
The technique of classification is based on primary headings and subheadings. The following are the primary headings:
Woman
Man
Child
Home & Living
Supermarket
Cosmetic
Shoes & Bag
Clock & Accessories
Electronic
Woman section contains many products, including:
Clothes, shoes, accessories, purses, luxury items, cosmetics, sporting goods, and travel items are all available.
Man section contains many products, including:
Clothes, shoes, personal care items, watches, accessories, fragrances, razors, sports goods, travel, camping, fishing items, technology, and luxury items.
 The child section contains many products, including:
Mother Toys, Girl's Toys, Boy Toys, Baby Products (0-24 Months) Fisher-Price, LEGO, Barbie, Hot Wheels, Outdoor & Garden Toys, and Popular Brands.
Children's Books, Scooters, Character & Figure Toys, and Cordless Vehicles.
Breastfeeding Supplies: Baby Foods, Nutritional Supplements, Baby Bottle, Pacifier, Food Preparation, Sterilizer, and Bottle Cleaners.
Baby Safety Equipment: Cradles for Wireless, Cameras, and Home Security.
Baby Cribs.
Wet Wipes and Diapers.
Baby Care, Bathing, and Health.
Shampoo, Rash Cream, Cream & Lotion, and Sunscreen Products for Babies.
The home and Living section contains many products, including:
Food & Breakfast Set, Pans & Cookware, Pressure cooker, Glass & Cup & Mug, Tea & Coffee Infuser, Spice Set, Oven & Cake Mold, Kitchenware.
Hall & Living Room, Bedroom, Study Room, Entrance & Hall, Kitchen, Dining Room, Young Room, Garden & Balcony, Office Furniture
Lighting includes a chandelier, a floor lamp, a lampshade, and a desk lamp.
Duvet cover, Quilt, Pillow, Blanket, Pike & Pique Sets, Carpet & Rug, Curtain, Bathroom Textile, and Kitchen Textiles are examples of home textiles.
Chart, Decorative Accessory, Candles & Fragrances, Mirror, Wallpaper, Practical Products.
Bathroom: Shower Systems, Shower, Bathroom Accessory, Faucet & Faucet, Bathroom Textile.
Power Tools include a crusher drill, a drill, a cordless screwdriver, a milling machine, a grinder, bits and apparatus, a paint gun, hobby tools, and accessories.
Tool Bag, Room Thermostat, Work Safety Products, Ladder, Paint and Paint Accessories, Water Treatment Devices, Nails, and Screws are examples of hardware.
Hand Saw, Pliers, Screwdriver Set, Silicone Gun, and Socket Set are examples of mechanical hand tools.
Work clothes and overalls, goggles and visors, work shoes, nitrile and armored gloves, earmuffs and earplugs, helmets, masks, warnings, and guidance.
Novels, Essays & Analyses, Fantasy & Science Fiction, Novel Stories, Horror & Thrillers, Turkish Literature, World Literature, Story
Tales & Stories, Novels, Child Activity & Educational Books Books for Babies.
Auxiliary Textbooks, Exam Books, KPSS, ALES, DGS, YDS, TYT-AYT, LGS Books, Software, and Technology are all part of education.
Academic, Religious, Mythology, Family & Child Care, Hobby, Foreign Language Books, Business, Economic Books, Foreign Language Books.
Multicopter Drone.
Remote Control Vehicles, Drone Multicopter, Puzzles, Game Sets, Game & Game Consoles, Mind Games, Board Games, Models, Model Vehicles, and Events are examples of hobbies and games.
Tires and Rims, Car Care Products, Rim, Engine Oil, and Fuel Additives, Battery and Battery Accessories Mat, Seat Cover, Lighting, In-Car Accessory, Wiper, Canvas, Audio, and Video Systems, Navigation, In-Vehicle Camera, Tape, Loudspeaker, Amplifier.
Polish, broom, washing shampoos, lubricants, general multi-purpose cleaning products, and all other cleaning and care products.
Headlight, Spark Plug, Brake Pad, Filter, Travel Products, Traffic, and First Aid Kits are all available as spare components.
Motorcycle Models and Motorcycle Accessories are all available.
Motorcycle Driver Apparel: Helmet, Coat & Jacket, Trousers, Gloves, Boots & Shoes, Raincoats, Backpacks, Motorcycle Protection Equipment, Motorcycle Bags.
How to Online shopping in turkey from Trendyol
Trendyol's Guide to Online Shopping.
Trendyol has its own clothing brand that creates men's, women's, and children's apparel, and it is well-known for its low prices and high-quality materials.
Trendyol shop provides discount coupons offered by selective retailers, which you may use after completing the unique rules demanded by the stores.
Trendyol does not ship internationally, but you may utilize Take&Ship Parcel Forwarding Service, which provides an address in Turkey as well as international delivery to anywhere in the globe from Turkish shopping websites.
Trendyol helps you keep up with the newest fashion trends. Shop the latest fashion, footwear, accessories, beauty items, and more. Increase your shopping enjoyment with Trendyol and get it delivered to your door.
Log in first:
Log in to www.trendyol.com via your computer browser. Move your cursor over "Giris Yap" and then click Uye Ol. Then, in the areas shown in the right screenshot below, enter your email address and account password.
Search through departments.
Assume you need shoes and are shopping for a new pair. Begin by hovering the mouse over Kadin or Erkek and then clicking Ayakkabi.
The categories are listed on the left. Spor Ayakkabi (Sneakers), Gunluk Ayakkabi (Casual Shoes), Sandals & Slippers (Sandalet&Terlik), Boots (Bot ve Cizme).
Add the item to your cart.
You'll find more thorough information on the product you've chosen here. If you've determined it's what you want, use the "QTY" drop-down menu to choose how many of this product you want. Then click the Add to Cart button. (Ekle, Sepete)
Continue to the Trendyol checkout.
If this is all you want to buy, go to Siparisi Tamamla.
Enter a shipping address.
You must now select an address to which your order will be sent. If you don't have one, you'll need to make one by registering with Fastarz.
Your order summary will be displayed on the left. When you're finished, click the Continue button. (Devam Et & Kaydet)
Choose a payment method.
You must now choose a form of payment for your order.
We'll assume for the sake of this tutorial that you want to pay with a credit card. To add a new credit card, follow these steps:
Enter your credit card number in the field under "Card Number – Kart Numarasi" (with no spaces).
Select the month and year that your credit card will expire from the two drop-down boxes labeled "Expiration Date – Son Kullanma Tarihi" and then click to add CCV.
When you're finished, this credit card will be automatically selected as a payment option, so simply click Continue.
Start your online shopping in turkey journey with the help of Fastarz, to buy more with less money.