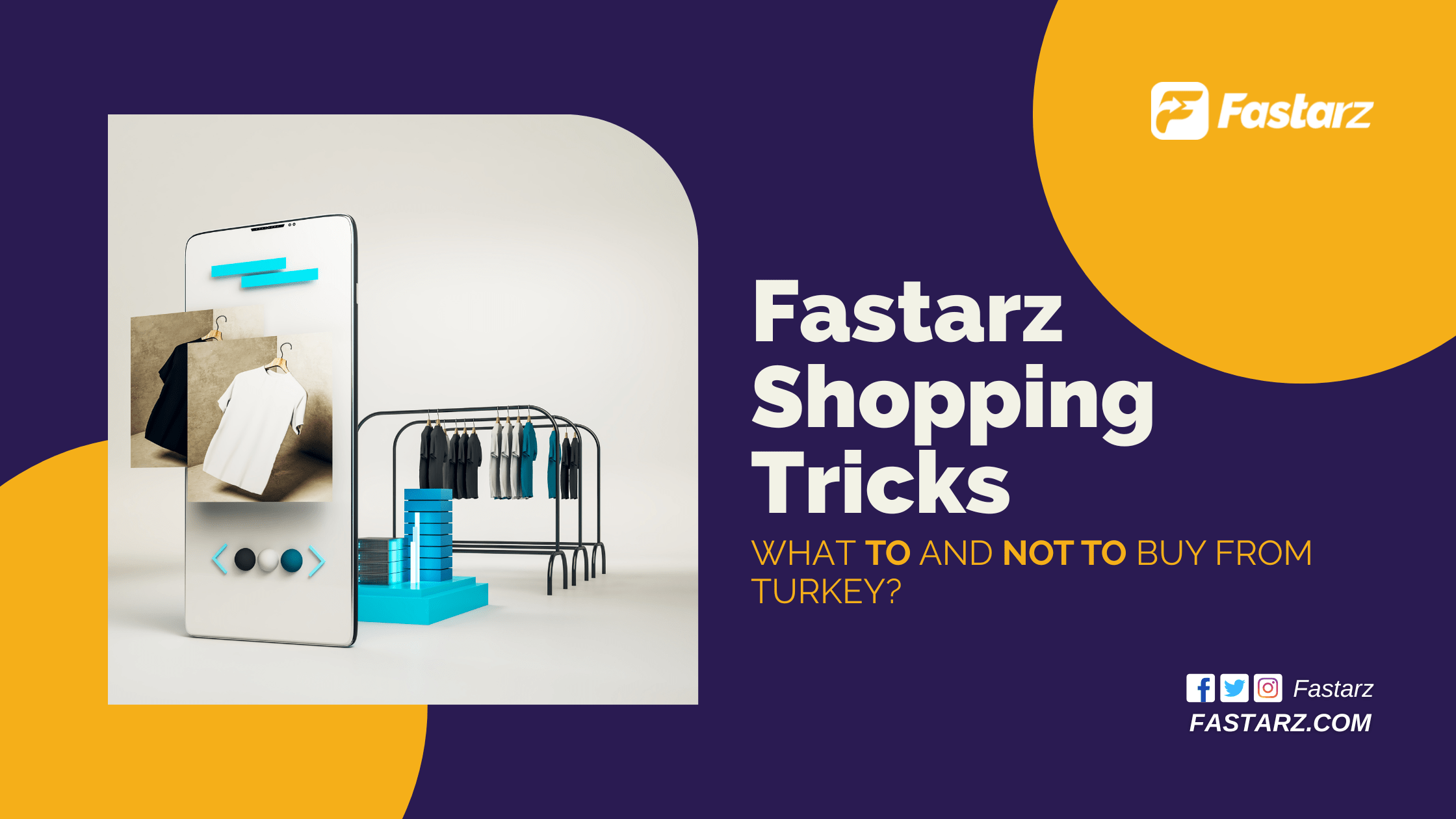 19 Aug

What to and not to buy from Turkey – Fastarz shopping tricks

Shopping tricks you should know about if you're thinking of shopping online from Turkey

 

Several types of traditional bazaars are combined in Turkey alongside modern American/European-style retail malls that increasingly dominate wealthy neighborhoods of major cities.

 

Everyday shopping in many cities, mainly Istanbul, is common in Western-style department shops, shopping malls, and supermarkets.

 
Shopping tricks about Turkish clothes:
Turkish fashion is starting to match the fineness of local fibers like Bursa silk and Angora wool. Genuine locally created things at respected retailers now command near-Western pricing – local brands are actively protected against copying.
Shopping tricks about Turkish leather:
Today, Izmir and Istanbul still have the largest workshops, but retail is booming along the Mediterranean coast, notably in Antalya and Alanya.
The most wanted items are jackets.
Shopping tricks about Turkish carpets:
They are single-sided and bag full. They are either all-wool, wool pile on cotton warps and wefts, all-silk, or a glossy fibers cotton pile on cotton warps and yarns, which is readily mistaken for silk. The higher the silk content, the higher the price of the rug.
Turkish carpets are crafted using a double-knot method, which makes them more durable than single-knot Persian carpets.
Hereke carpets, called after their place of origin, are the most well-known Turkish carpets. They are made of pure silk and have an incredibly high knot thickness.
Great ones may cost tens of thousands of euros. Silk carpets produced in Kayseri, a central Anatolian region, are normally one-third less expensive.
Shopping tricks about Turkish jewelry:
Turkey is an excellent place to buy jewelry in terms of design, quality, and affordability, however gold prices, in particular, have skyrocketed in recent years.
Gold and silver jewelry, as well as semi-precious stones, are sold by weight, with little respect for the variable levels of skill involved.
Shopping tricks about Turkish kilim:
A kilim is a flat-woven, pile-free wool rug. The best are double-sided (that is, the pattern should look much the same top or bottom).
A cicim is a kilim with raised motifs sewn on top. Kilims, which are traditionally fashioned by nomadic Anatolian tribal groups such as the Turcomans and Kurds, are far cheaper than carpets.
The great majority of kilims are richly patterned with geometric designs — typically stylized birds, animals, flowers, or other natural world representations that served as the backdrop to the nomads' existence.
Originally, they were used as floor coverings, tent dividers, and blankets, or as storage/saddlebags and bolsters when sewn together.
But what if you are in another country and want to shop from Turkey more freely?
Fastarz offers you many services that you need frequently, the most important of which is the personal shopper service, which provides you with a person who goes through the various stores you prefer to buy on your behalf, meaning that you can roam freely and buy as you like but through another person, through Several advantages, including
1- You can choose if the personal shopper is male or female:
Some women feel embarrassed when their shopper is male, and this happens for many reasons, including that men do not have the detailed vision of different colors like the female, as the female can differentiate between normal white and pearl white in just one look! While a man cannot differentiate between similar colors and even types of fabrics.
In addition, females can easily differentiate between international brands and even different products under the same brand name, while men can differentiate between different products only!
Also, some women may feel embarrassed to make a man buy their own clothes.
2- You can specify the appropriate time and date for you to shop.
Your day may be crowded due to work or housekeeping and children, so your available time may be late in the day or early in the morning, so the personal shopper with Fastarz is one of the most important services in your favor if you prefer to buy online from Turkey.
3- Select the places and he will go to them.
You may need your personal shopper to go to several shopping areas, so coordination between you and him is done directly through the Fastarz website until you agree on the place, in addition to much other information:
The right time for both of you.
Product details.
The average amount paid.
The number of stores to be shopped at.
After completing the shopping, your goods return to the place designated for you in Fastarz and wait for a period of 90 days starting from the arrival of your first product, and then you wait until you make the decision to ship it to your door, through the shipments collection system that is carried out professionally within the procurement headquarters, which helps you reduce the cost of one-time shipping for all your purchases.
The Fastarz website also provides you with many shipping services so that you can choose among them what suits you in terms of the lowest price or the fastest delivery.
That is why you will not be able to get your purchases in the fastest time except with Fastarz, because they offer you more than one different service for fast shipping more than other international shipping companies through sea freight, air freight, and innovative shipping methods with several advantages:
Less time in compiling and processing orders.

Less waiting time for shipments to arrive.

Best shipping rate compared to other sites.

Delivery is to your doorstep.
Don't worry about delivery! Because in Fastarz, the largest shipping companies around the world are dealt with, which pay great attention to your purchases and take great care in packaging, processing, and transportation from Turkey to your door, especially in breakable purchases! Until it reaches you in its original quality.
If you want to shop freely and buy high-quality Turkish products, all you have to do is contact Fastarz with what you need and your purchases will be processed immediately, contact Fastarz now!