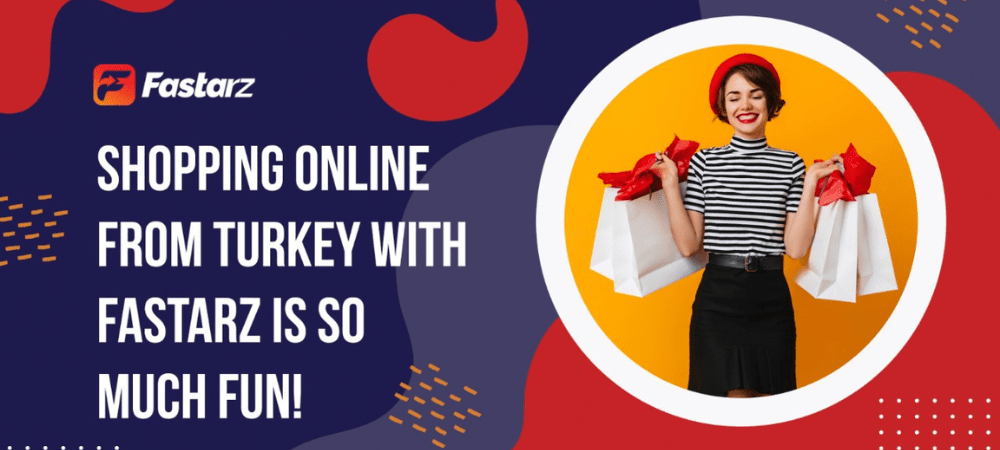 25 Aug

Shopping online from Turkey with Fastarz is so much fun!
There was formerly a major issue for anyone looking to shop online from Turkey:
Turkish stores do not offer foreign shipping services.
Customers were compelled to pay exorbitant courier fees as a result of this.
Our clients may contact us at Fastarz to track their purchases and pay for worldwide shipments using electronic payment systems.
Steps for shopping and shipping with Fastarz
Register on the Fastarz website to obtain a Turkish address.
When purchasing from Turkish websites, use your address.
Add up your purchases and figure out the total weight and cost of your shipping.
Determine the final destination's delivery address.
Use the card payment method.
1. Register on the Fastarz website to obtain a Turkish address.
To begin shopping and shipping with us, you must first register on our website.
You register by clicking on this link and following the steps.
Please keep in mind that you can access our website using your Facebook or Google accounts. This is a secure form of access that has been approved by both parties.
Register Now from HERE
2- When purchasing from Turkish websites, use your address.
To begin, you must use your personal information to register on the Turkish website from which you desire to purchase.
After completing the registration process, you may begin shopping on their website and collect your goods in the shopping basket.
Follow the purchase procedure until you are prompted to provide the delivery address at the checkout.
Enter your Fastarz free address. This was sent to you when you registered with us.
When you log in to our website, you may copy your Fastarz free address from the Control Panel and paste it into the delivery address on the website where you are purchasing.
3- Add up your purchases and figure out the total weight and cost of your shipping.
You may view the real weight of your purchases by clicking on this link
just enter the dimensions of your package then check on the price one more time before ordering.
4- Determine the final destination's delivery address.
After carefully checking your order, send us the final destination address and do make sure that your address and phone number are sent correctly.
5- Payment method.
When you are sure that all the previous stages are correct, you can start the payment process.
The payment process is secure and trusted by international banks in Turkey.
Be sure that all we need from you is to do your shopping online in Turkey in the best ways possible.
We provide international shipment of Turkish apparel from Istanbul.
Do you want to try shopping online from Turkey?
We can assist you here.
Whether it is your first time buying in the Turkish clothes market or not, we have the experience and skills that you require.
You simply need to contact us ahead of time, then we connect you with your Turkish personal shopper to do all your shopping process with ease.
We will aggregate your items, even if they come from diverse sources, and then package and send them to you, giving you shipment statistics such as weight, cost, and volume prior to delivery.
Fastarz offers goods shipping services worldwide from Turkey.
As part of our plan to connect all Turkish cities to the rest of the globe, we are a Turkish firm known for our door-to-door delivery, customs clearing services, and cheap rates.
We have connections with the most major global air freight firms, and we strive to provide the best logistical services at the most affordable price to our customers.
Door-to-door airfreight delivery services
Clearance of customs and delivery service
Personal stuff shipping
Refrigerated and non-refrigerated products shipping containers
Worldwide door-to-door shipping services.
When a consumer contacts us, the shipping procedure begins. We send someone to collect the shipment, weigh it, and bill it before moving it to one of our storing places for packaging and delivery to the final destination.
We transport personal things securely, and we will pick up the package at our storage facility. We will provide you with a receipt after the package has been collected.
We then repackage the shipment according to its contents and dispatch it within a few days.
Fastarz is a new online shopping reality in Turkey. You may get your products delivered swiftly and simply with international delivery. Get a free virtual address in Turkey to buy online and receive worldwide delivery from Turkish retailers.
You can use this address even if the shop does not provide international delivery. Package sending from Turkey has never been simpler, quicker, or less expensive!